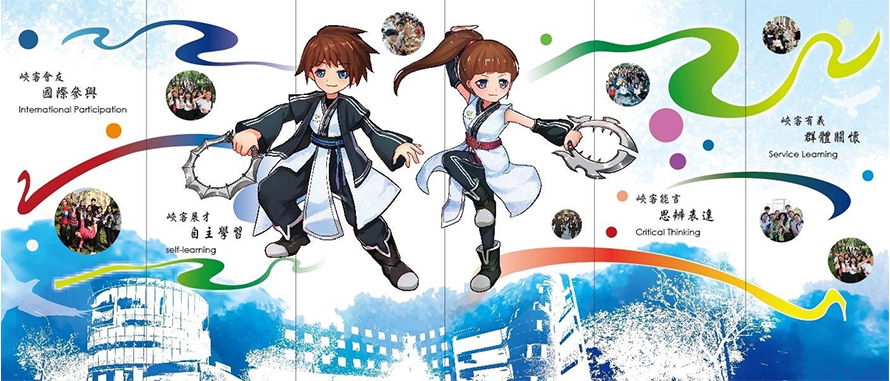 Situated in the National Taipei University (NTPU) Special District in Sanxia District, New Taipei City, Bei Da High School is a six-year high school. It was established in 2014, comprising 18 classes in the senior high school and 12 in the junior high school. Currently, there are 1068 students and a faculty of 85. The school is medium-sized and has been highly recognized by the community for its educational performance in recent years.
Since its establishment, the school has set forth "diversity, gratitude, health, creativity, and sustainability" as the core values of school development, aiming to promote holistic education and international recognition. Since the 108 curriculum was put into action in Taiwan, we have envisaged fostering "Yuanshan Gallantries (鳶山俠客)," meaning to help students develop four core competencies: "Showing Talent: Ability of Self-Directed Learning," "Being Well-Spoken: Ability of Critical Thinking and Communication," "Acting with Kindness and Righteousness: Ability of Caring for Others," and "Expanding Networks: Ability of International Participation." The four competencies are essential for the school's curriculum integration and development. Through three years of education at school, we hope our students can grow into "Yuanshan Gallantries" with holistic development, equipping them with capabilities of self-directed learning, caring for others, critical thinking and communication, and international participation.
We have been sparing no effort to promote international education since the school was founded. Starting in 2015, we began exchange activities with schools in Japan, partnering with Osaka Prefectural Tondabayashi Senior High School and Tokyo Mejiro Kenshin Senior High School and working on exchange methods. We also participated in various international education programs, including the Ministry of Education's School-based International Education Project (SIEP), AIESEC International Volunteer Program, Taiwan Rotary Youth Exchange
Multidistrict Program, International Educational Trip Program, Online Exchange Partnership with International Schools, New Pedagogies for Deep Learning, Bilingual Instruction Program in Some Domains, and English-only Instruction Program for English Courses. In addition, over the past three years, we have collaborated with Blyth Academy in Canada and Living Word Lutheran High School in the United States to launch dual-degree programs, creating more learning and international exchange opportunities for our students.
We look forward to connecting and developing partnerships with the international community and building a multinational learning environment for our students by offering more diverse international courses and exchange programs. Through these efforts, we hope to enhance students' learning experiences, cultivate global citizenship, and showcase Taiwan's value.
Natural Sciences: Inquiry and Practice
The goal of the school-developed required course "Natural Sciences: Inquiry and Practice" for our first-year high school students is to enable them to undergo the process of scientific inquiry and problem-solving by addressing real-world issues with hands-on practice and to cultivate their skills in scientific thinking, critical issue identification, tool use, systematically problem-solving, and effective communication.
Second Foreign Language
Our school offers Japanese, Korean, Spanish, French, and other second-foreign language classes. Professional foreign language teachers are hired to provide students with basic knowledge about foreign languages and cultures and prepare them with basic reading skills in the target language. At the end of each semester, a presentation is organized to showcase students' learning outcomes, allowing them to creatively introduce various countries' cultures.
Elective Courses
Various elective courses are offered at school, including reading comprehension, critical thinking on social issues, public affairs participation, mathematical logic development, aesthetic education, information technology skill development, university-level calculus, and introductory accounting. Students can choose among elective courses based on their interests or in preparation for university learning. The aim is to broaden the student's horizons, meeting the needs of social development and the requirements of university enrolment.
Self-directed Learning
Our school provides self-directed learning courses for students of all years. Teachers with expertise in various subjects are invited to mentor students, guiding them in formulating and executing their self-directed learning plans. At the end of each semester, a self-directed learning presentation is held to share learning results, allowing students to learn from each other's successes and failures to find new strategies for future triumph.